The 2018 NPC & CPPCC plenary sessions have now kicked off, and major network security enterprises are facing a "big test". Based on the experience of Surfilter's security experts, innumerable security incidents occur during important domestic events and conferences, seriously jeopardizing the national network security and even undermining normal operations of the national economic and social order.
To ensure network security and information traffic during the NPC & CPPCC plenary sessions, network security and stability needs to be guaranteed for customers' network information services. Surfilter's network security situational awareness platform provides a network information security protection program. The specific services include:
Security services
1. Website security monitoring
Through situational awareness service, the availability of customer website data is monitored, along with security scanning (dark chain, malicious code, tampering, etc.) and web application discovery, alerting the customer in case of abnormal behavior and providing corresponding protective measures.
2. Internal asset monitoring
The system conducts deep scanning of the customer's internal security equipment, host/server and industrial control equipment, along with multi-dimensional evaluation of known or unknown backdoor vulnerability security threats through intelligent threat analysis. It also provides network asset analysis, user scenario analysis for traceability, and threat source discovery to assist in corresponding threat handling and ensure the customers' network security during NPC & CPPCC.
Introduction to Surfilter's situational awareness solution
Network security situational awareness—real-time capture of industry network security trends and security incident trends.
Dynamic security incident monitoring —continuous dynamic monitoring provides supervisory means and data support for regulators.
Security threat visual analysis and control—visually demonstration can help control network security attacks, threats, and posture in real time.
Dynamic real-time notification assessment—Big Data integration + full-range monitoring and early warning, real-time dynamic assessment, reinforce security.
Free usage
During the NPC & CPPCC plenary sessions, a free trial (from March 5th to March 16th) is available for the Surfilter Network Security Situational Awareness Platform. Interested users can contact us to know more about the free trials. In addition, to ensure network information security of the majority of users, Surfilter's 400 customer service hotline will remain available 24*7 during the NPC & CPPCC plenary sessions, to help you quickly resolve various security problems and fully guarantee that your network will be unimpeded and information will be safe.
Global Hotline: 400-700-1218
E-mail: service@1218.com.cn
E-mail: service@1218.com.cn
Emergency security contact person:
Security service group East China: Zhang Xinrui 18621917175
Security service group South China: Zeng Xianyu 13612810110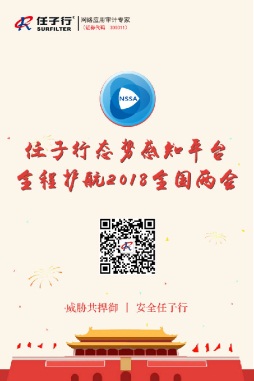 Considering the importance of network security during the NPC & CPPCC plenary sessions, Surfilter reminds users that during this period, it is highly important to strengthen security protection and monitoring, and improve network security guarantee and defense capabilities, to avoid accidental security incidents, and ensure smooth network information and security services:
1. During the NPC & CPPCC plenary sessions, conduct comprehensive vulnerability scans of relevant websites in a timely manner, and repair bugs as soon as they are found, to reduce security risks.
2. Close non-essential services and ports to the internet, and use a professional firewall management server to communicate externally.
3. Strengthen security inspection of websites, pay attention to attack logs and alarm information, and prevent occurrence of security incidents such as webpage tampering and information disclosure.
4. Pay attention to latest vulnerability warning notifications, conduct regular system updates, and fix vulnerabilities regularly.
5. Strengthen server indicators and various application service monitoring, and prepare appropriate disaster recovery plans.